Windvillage's windguarantee and online booking system instant, big worldwide success!
A graph showing the bookings and income at the 1st of September 2009, showing a record in the area, but even worldwide... Windvillage today has 33 confirmed bookings in 7 months.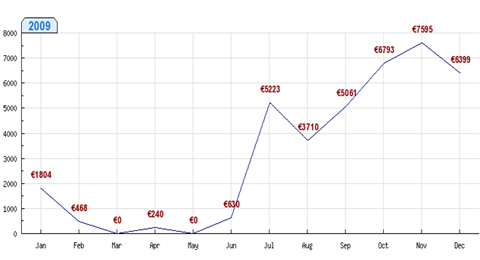 Eversince the Windvillage, Waterfront Bungalows, Garden and Spa launched it's worldwide unique windguarantee, it rains bookings at their easy, online booking system!

The pousada is meanwhile already famous between windsurfers and kiteboarders in the entire world: who doesnt want to spend a holiday with a guarantee of wind?

Meanwhile, also investors showed large interest in becoming owner of the next project, Lagoa Azul, right next to the Windvillage, built soon only 50 mtrs upwind at Praia da Barra.

Some investors even consider to take a whole project in one go.

For more information of also becoming partner and owner of one of the island's succesfull online rental and investment formulas, please visit the real estate section of this website or send your request to Beachlife Real Estate. They can furnish you detailed information on it.

But one thing we may disclose you already:
The (4) first investors and owners of the Windvillage are more then happy about their investment: the returns already reached 15 pct per topday, july 1 2009, based on paid and confirmed bookings and is now prognosed to reach well over 30 pct return on investment(!) Till year end!

Imagine, you will win back your investment in less then 3 years and then enjoy a yearly (taxfree) income of appr euro 20.000.-...!